Age – the greater the number, the more challenging it becomes. It is difficult to live a slow life with a frail body, whether alone or under someone's care. Even if you are not suffering from a disease, you still need some of the best-aged care products. It will make your retired life more comfortable.
Top 7 Aged Care Products Reviewed
A well-designed Bathtub that makes bathing for the elderly, immobile, and recovering easier. The Bathtub suits most people with its favorable size and ease of use. The material is PVC, which is lightweight and soft, providing an appropriate surface to lay on.
It comes as a complete set, including a shower head and an electric pump. The shower encourages proper washing, while the electric pump helps inflate and exhaust. All attachments and accessories come with the Bathtub.
Despite the size, deflating, folding, and storing away when unused is easier. The material is easy to manage regarding portability and cleaning. It is essential amongst the best-aged care products for the elderly.
Pros:
Comes with the complete Bathtub kit.
Lightweight
Easy to clean
Fits on a standard medically adjustable bed.
Cons:
Inflatable sink set for shampooing and washing hair comfortably and effortlessly. It is not only suitable for bedridden patients and the elderly but is also perfect for washing your hair conveniently.
The sink has an attached pillow and a supportive panel so the neck can rest well. The shower bag included, along with an attached shower head, makes washing more manageable. The waterproof jacket prevents water spills and drips from drenching the person.
Easy drain access lets water out quickly for a clean and finer job. Moreover, the PVC material is easy to handle with its lightweight and easy-to-clean properties. You can easily deflate the sink and store it away after use. On the other hand, the sink can be easily inflated manually and with a pump.
Pros:
Easy storage and caring
Lightweight
Easy to clean
Economical
Good neck and head support
Cons:
Water does not drain completely.
No pole is included to hold the water bag.
The Vive Alternating Pressure Bed Pad is a doctor-recommended device for bed sores. 130 air cells provide a gentle wave-like therapy that supports up to 300 pounds. The electric pump is whisper-quiet for a relaxing environment.
It has a spill-proof remote control and a dual-pump system to control the pressure. The easy-to-use remote control lets you adjust the pressure and the intensity of the pad.
A detachable 10-foot power cord allows you to place the controller within reach. Available in queen and king sizes, this bed pad is available in white, and it's machine-washable for easy care.
Pros:
Easily adjustable on existing bed
Weight distribution eliminates pressure points.
Manual included
Cons:
This mattress pad offers advanced support and convenience. The air pump is built with a particular focus on noise reduction. The mattress pad design provides medical-grade pressure relief with bar-shaped inflatable bladders.
These inflating and deflating bars evenly distribute weight and eliminate pressure points. The alternating pressure relieves back pain and aching pressure points. It will help with stiffened muscles and fibromyalgia pain.
MAIDeSITe Alternating Air Mattress Pad is lightweight, portable, and easy to use. The pressure relief pad is compatible with any standard hospital or home bed. It works with the existing hospital bed remote control, either with an air pump or air chambers.
Pros:
Best for bed sores
Quick inflating:
Easy to set up
Cons:
The pump must always be kept on.
Snailax vibration massage mat with heat provides the ultimate relaxing massage experience. Along with its portability, it is made of the most high-quality materials. Memory foam is integral to the pad, and the cover is plush polyester. A supportive base foam layer is finished off with a polyester cloth covering.
The massaging is helpful for sore muscles, and the heating facility adds to the comfort. It is excellent for bedridden patients, seniors, or anyone seeking relief.
The massage pad can be used while sitting or lying on the bed, sofa, or chair. It is aligned with 10 different massaging motors overall for maximum comfort. All motors function on 3 intensities, 5 massage modes, and 4 targetted zones.
When not using the massager, you can still avail the heating experience. There are 6 six heating pads assembled with varying heat settings. Moreover, it automatically turns off if overheating is detected.
Pros:
Built-in overheating protection
Various heating and massaging settings
More surface area
Lightweight
Cons:
Massager shuts off after 30 minutes.
The Lunix Bed Wedge Pillow keeps comfort and therapy in mind. It is medically recommended for back support and ease neck and leg pain. The lift relaxes the spine while the wedge under the knees and the neck relieve pressure.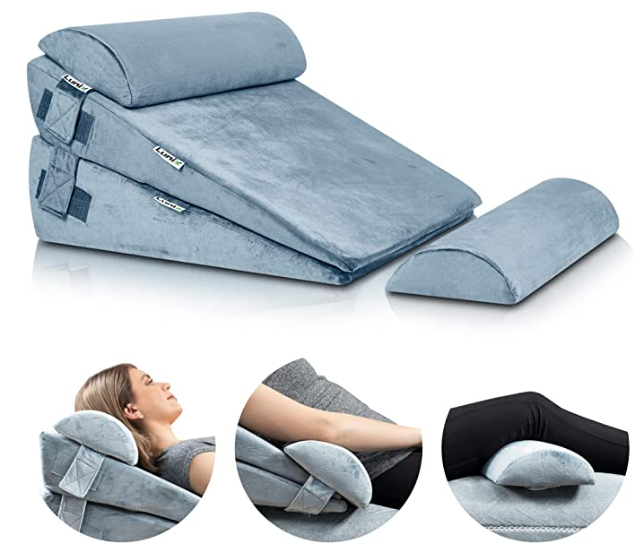 This helps with better sleep, reduces muscular tension, and eliminates pressure points. It is excellent for immobile individuals or the elderly with back issues.
It comes with an easy-to-read instruction manual and a machine-washable blue hypoallergenic case. The inner memory foam adjusts well to your weight and shape, achieving the correct posture.
The head pillow is detachable, giving you options with various placements for support. One or two users can use the two wedges together or individually. The possibilities are unlimited as they can be placed in numerous positions.
Pros:
Multiple uses
Removable and washable cover
Suitable for one or two adults
Hypoallergenic material
Cons:
Not preferable for heavy-weight individuals
Lunix orthopedic bed wedge pillow set improves your sleep by aligning your body. It relieves chronic back, hip, and neck pain, sciatica, and knee pain. The memory foam of these pillows conforms to your body and supports your lower abdomen.
The ergonomic design of the sitting wedge pillow is perfect for reading, watching TV, and typing. It improves digestion and reduces gas and bloating caused by acid reflux and heartburn.
The high-density polyester fiber velvety fabric cover is removable, machine washable, and easy to clean. It is breathable and wicks away sweat, and feels cooler.
Pros:
Lightweight
Suitable for 12 to 90 years old
Transport bag included
Removable and washable cover
Cons:
Not suitable for heavy-weight individuals
Conclusion
Age is never just a number for health issues such as limited mobility or bedridden diseases. You need extra care to live comfortably or fulfill standard life tasks. Our list of best-aged care products will make caretaking easier for seniors and immobile or recovering patients. They can be availed professionally and personally.